Bio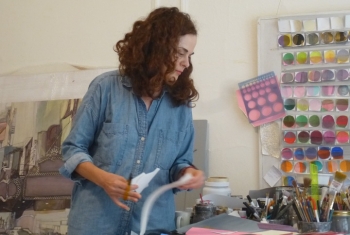 I feast on images—those in the world and in the art I admire. Ukiyo-e prints; cinematic matte paintings; Lucy M. Lewis's painted ceramics; outsider artist James Castle's drawings; and modernist Charles Burchfield's smoky landscapes are among the influences on my painting.
Growing up in St. Louis instilled in me a love of the prairie and landscape space that is deeply ingrained. On family road trips to the West my siblings and I searched the sky for the first sight of the Rockies. There were huge sunsets in Montana, vast distances in the high plains of Wyoming, and animate forms in the rocks of the Utah desert.
After studying figure drawing at Washington University and apprenticing with a local weaver, I spent the summer before college living with a family on the west coast of Ireland and painting the landscape. I received my BFA from Tufts University and a Diploma in Fine Arts from the Boston Museum School.
Working in New York for thirty years has helped me create a vision—a small-aperture-yet-expansive kind of seeing. My work is in Robert Blackburn's Printmaking Workshop Collection in the Library of Congress; and private and corporate collections in the US, Canada, and Britain, including that of the late sculptor Sir Anthony Caro and his wife, painter Sheila Girling.
Contact: kyle@kylegallup.com
Kyle Gallup's Resume: view here
You may visit "Studio Views" on my Facebook page.